Disclaimer: only the first half of this post is dedicated to a Christmas memory. The rest will be crass commercialism. At least it's only half crass.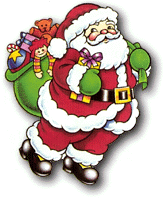 For my third memory, I'd like to share something that's not even actually a memory. It was a dream. A vivid, real dream that I woke from convinced it was real. So convinced that I spent part of my childhood trying to prove it to myself. Sadly, I never succeeded.
The bedroom arrangements in our house changed as kids grew up and moved out. I started out when I was wee little in my sister's room because it was just down the hall from Mom and Dad. When my sister married and moved out, the room became my oldest brother Dave's and I moved into the giant attic bedroom with my middle brother, Don. When Dave moved out, if I recall correctly, that downstairs room became Mom's sewing room and the place where all the toys got stored. So when I say the closet in question was in Dave's room, I have to tell you it may or may not have been his room at the time of The Dream.
One night, as wasn't unusual for me, I was playing in the closet of that room. It was big and deep and very dark when you closed the door, so it was ideal for the little projector toy I had. It was, looking back, nothing more than a kind of scaled-down slide projector with a slot where multiple-slide strips could be pushed through. Each strip, four slides in length, told a miniature story. So anyway, I was playing in there, way in the back. I don't remember how, but I discovered that the back wall of that closet had a secret door in it. When I opened it and crawled through, it was a portal to the North Pole. I saw the elves and the reindeer and even the big man himself. I don't recall if he told me or I just got the sense of it, but I felt like he was showing me this place because someday I was going to be Santa Claus when he retired. It was one of the happiest, most magical moments of my life.
Suddenly, without warning, I was no longer at the North Pole. I was lying in bed with Mom yelling at me that it was time to get up for school. I've never experienced anything quite like it since. Unlike most dreams, I retained every little detail of the trip. I was so convinced that it was more than a dream that, periodically for the next year or more, I checked the back wall of that closet, hoping that the door was only visible when Santa wanted it to be.
Unfortunately, that door never reappeared, in a dream or while I was awake. Over the years, I've lost the specific details of the North Pole, though I've never lost the sense of joy and wonder that I felt while I was there. The memory of it pops up at the most unexpected times. Often, it's when I need a boost of joy and wonder.
I have a confession to make. When I was older, my folks sold that house to build the one they live in now. I never told anyone this, but before they moved out for the last time and turned over the keys to the new owners, I checked for that door one last time. Missed it again.
And now to the commercialism. I want to tell you about an organization called ClutchMOV. As it says on the masthead of its website,
clutchmov.com
, it's an online lifestyle magazine for the Mid-Ohio Valley. It was created by two amazing young women named Liv Reeder and Sarah Arnold. They are multi-talented folks who feel, as I do, that the Mid-Ohio Valley gets an undeservedly bad reputation as a place only good for giving kids thirteen years of free education so they can leave for somewhere bigger and start their real lives. They strongly believe that this area is an amazing place not just to grow up, but to put down permanent roots. So they created ClutchMOV as a way to celebrate all the area has to offer, from arts to culture to food to history to its amazingly kind, talented people.
I'm committed enough to this cause that I've begun writing for the website. I do book reviews. Soon, I'll start writing reviews of local plays. And, occasionally, like right now, they allow me to contribute short fiction. And I'm one of several folks who contribute our talents, all for free.
And that's what Liv and Sarah want to change. They not only want to move beyond the web to regularly publishing print magazines, they want to make this a going commercial venture in which they can actually pay the people who write and photograph and edit and do all the countless things it takes to run a quality publication.
So why am I telling you all this? For three reasons. First, I want you to go to
clutchmov.com
and just look at all the neat stuff that's there. The writing is top-notch, as are all aspects of the site. Second, while you're there, please consider clicking on the link to their
Kickstarter
campaign. Their goal is $17,500, which will allow them to fully implement their business plan. But they really need your help. Even if it's just $5. If every person in the MOV contributed $5, they would more than meet their goal, and I'm here to tell you that this is a deeply worthy cause.
The third reason? So you can read my
story
, of course!