Unlike many Saturday mornings, I didn't have a topic I'd been mulling over in my head this week. I went through my journal and all I had left were more nostalgia pieces, most of which will show up sometime, but I felt like I'd inflicted enough of my childhood on you. So, thanks to Molly Greene, author of the blog
Molly Greene: Author
and her post
"101 Fabulous Blog Topics"
for helping me come up with something that you may find of interest: my favorites.
Be warned that this is a random list of my favorites and it constitutes how I feel as of this writing. Some are long-held feelings and some may change tomorrow. And these have nothing to do with what I think is right or wrong. This is not a debate topic. Picking favorites is purely personal and opinion based. So, while I'll ask at the end what some of your favorites are, I don't want anyone explaining to me why my favorite pizza choice is wrong. It can't be wrong unless it's immoral, like if I said my favorite pizza topping was bald eagle or something.
So here we go, in no particular order:
Favorite pizza: Giordano's Pizza in Chicago. I nearly wet my pants when I heard they were opening two locations in Cincinnati. I discovered this place the first time I went to Chicago and have eaten there at least once every time I've made it back, which is, tragically, not nearly often enough. Words fail to describe the nearly sinful pleasure that is the Giordano's deep dish pizza. It's less a pie than a casserole. Think of a crust, an inch of toppings as fillings, another crust, more toppings, sauce, and cheese. A large has to weigh ten pounds, which is what you'll gain after eating there, but it's worth every ounce.
Even a picture doesn't do it justice. It's a bacchanalia of deliciousness.
Favorite book: We're not counting the Bible since it's basically a library (I'll get to favorite book of the Bible later), so, to none of my students' surprise, my favorite book would have to be Cry, the Beloved Country by Alan Paton. I teach it every year and, whatever changes in my classroom, I believe that will be in the AP curriculum until I retire. It's not just because of the storyline, which is beautiful and sad and triumphant and abject and hopeful all at the same time. It's also because every page is just like the most beautiful painting except in words. Paton wrote few books, but what a way with words he had. Please, please, please read this book.
One of my favorite quotations from the book
Favorite fictional character: You might expect me to say it's Superman, but I cheat and say that's a different category. So maybe this should be favorite literary character, which is Jean Valjean from Les Miserables. It's not exaggerating to say that seeing the musical version in Washington DC for the first time was a life-altering experience. Seeing how Jean Valjean spent the rest of his life trying to live up to the amazing gift of freedom given to him by a man of God made me want to be a better person. And not just want to but want to badly enough to strive daily to be a person who loves and cares for the people around him. This is kind of a freebie: my favorite quotation is from the musical, though it doesn't appear in these exact words in the book. It's become a guiding principle for me: "To love another person is to see the face of God."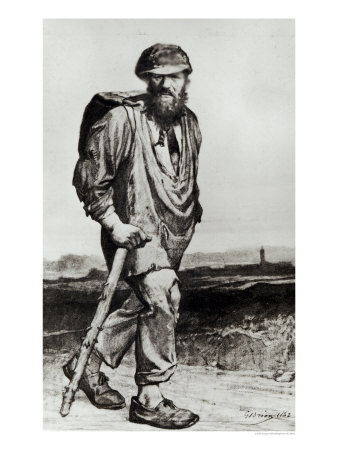 http://es.doblaje.wikia.com/wiki/Jean_Valjean
Favorite person from the Bible: Other than God, of course, it would definitely have to be Peter. Peter was a screw-up. He shot off his mouth and didn't back it up. He was cranky. He was weak. He was kind of a bigot. And God used him greatly anyway. Peter speaks to me of God's transformative power and gives me hope that someday I might get it right.
I'm not much of a fisherman, but other
than that, I can really relate to him.
Favorite place to write: Now that I have a kind of writing nook in my room at home, I do most of my writing here, but the winner of this category would have to be my local Panera Bread. I don't know why, but I'm just really creative and productive there. The only thing that slows me down is having to get up to go the bathroom so often from the gallons of coffee I put away as I type. Plus, the food is always delicious. I'm campaigning for a commemorative plaque, but haven't heard back from the management yet. Next time you go, tell them I sent you. They won't have any idea who I am, but do it anyway.
I hope they don't mind my using their picture. It's free advertising, so maybe they won't sue me.
Favorite sweet: This is a toughie. I considered making it an eleventy billion way tie between all of them, but that's just not right. I love ice cream. It's my go-to dessert pretty regularly. I also adore cheesecake, especially with blueberry or cherry topping. And who doesn't like Oreos, especially double stuffed ones? But my favorite is a sentimental choice: my mom's chocolate chip cookies. She makes them every year around the holidays and it's just not Christmas without them. She makes a couple different varieties and the thing they all have in common is that they are addictive. Dipped in milk, with a cup of coffee, as dessert--the only way they aren't good is if they are all gone, which is a true and deep sadness.
These aren't actually my mom's. Hers never exist
long enough for anyone to take a picture.
Okay, that's enough for now. Future favorite lists will include but won't be limited to: favorite sandwich, favorite movie, favorite Christmas tradition, favorite place to vacation, and favorite summer vegetable.